Update November 2020 Prototype 1.0 is ready for testing !
Friday April 12th, 2019
0 Comments
---
---
Eldridge created the first prototype version of the Pelvic Chair. We are now in the process of determining the most efficient artisan production methods so we can replicate the design for the first tests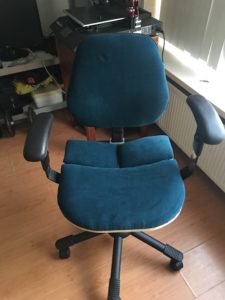 To be continued!
Update January 25 2020. Prototype 2.0 is ready !!
Prototype 2.0 is ready and the first user experience tests can finaly begin.
Features added:
Sitting capacity 100 kg load.
Motorized control of flaps.
Detachable power cord.
Added adjustability.